Downloads
The latest software and media downloads for ZionWorx 2014
ZionWorx 2014
Version:  3.9.3.0
Updated:  14th July 2020 
Release Notes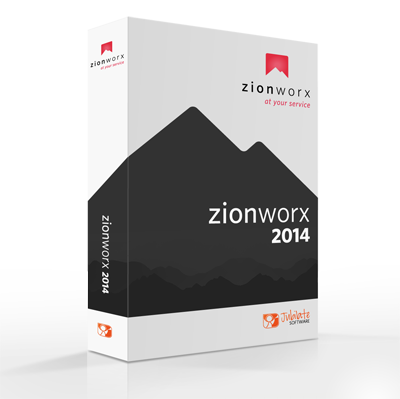 For details about what hardware you need to run ZionWorx 2014, please see System Requirements.
30-Day Free Trial
We offer a 30-day free trial so you can download, install and fully evaluate the software. This isn't a cut-down demo version with limited functionality either, it's the full software so you can explore all the features. If you like what you see then at the end of the 30 days (or before) you can choose to purchase a license key to unlock the software for continued use.
File Size: 65.0MB

Pricing
Purchase a ZionWorx team license for £169 (USD $249). For further information including licensing terms please read Pricing.
If you have any queries please contact us at sales@jubilatesoftware.com.
How to Upgrade
ZionWorx automatically checks for updates on start-up. If there is an update you will be prompted with the details and given the option to update your version. This setting can be turned off through the options menu and if there is no internet connection you will be prompted to disable this feature.

You can also manually update your installation of ZionWorx 2014 to the latest version by using the "ZionWorx 2014 Update" shortcut created for you during installation.
A separate update installer can be downloaded to use for offline upgrades.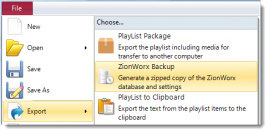 NOTE: Before applying any update you should perform a backup of your ZionWorx song database using the Export menu option.
Pricing
ZionWorx 2014 is sold as a Name-Your-Own-Price product which simply means you choose how much to pay for the software. When you purchase ZionWorx you are buying a generous Team Licence which means you can install it on up to 10 computers that your team members may use.
To help you decide what to pay, the table below shows the 4 purchase levels we offer and the included bonus downloads you get with each. The market value of the software is $300 USD, but we are willing to offer up to 80% discount to help make it affordable for everyone. 
Purchase Level
Base Price (USD)
Included Bonus Downloads
Bronze
(Minimum Price) 
$60
30 background images
Silver
$90
5 high-quality background videos
30 background images
Gold
$150
15 high-quality background videos
30 background images
Platinum
(Market Value)
$300
All the above media plus the knowledge that you are helping to subsidise churches that aren't able to pay the market value.

Please note: If one of the base prices above is not exactly what you want to pay, you can include an additional amount of your choice at the time of ordering.
If the minimum price is not affordable for you please contact us at sales@jubilatesoftware.com to discuss your situation.
For further infomation about why we chose this pricing approach for ZionWorx 2014 please read Pricing.
We used ZionWorx 2014 in our service this morning and- wow!! It was magnificent!! We plan to use it in our other services now. It's so easy to use once you've mastered the basic techniques, which was helped tremendously by your video tutorials.

Rosemary S. (United Kingdom)

Read more user experiences like this